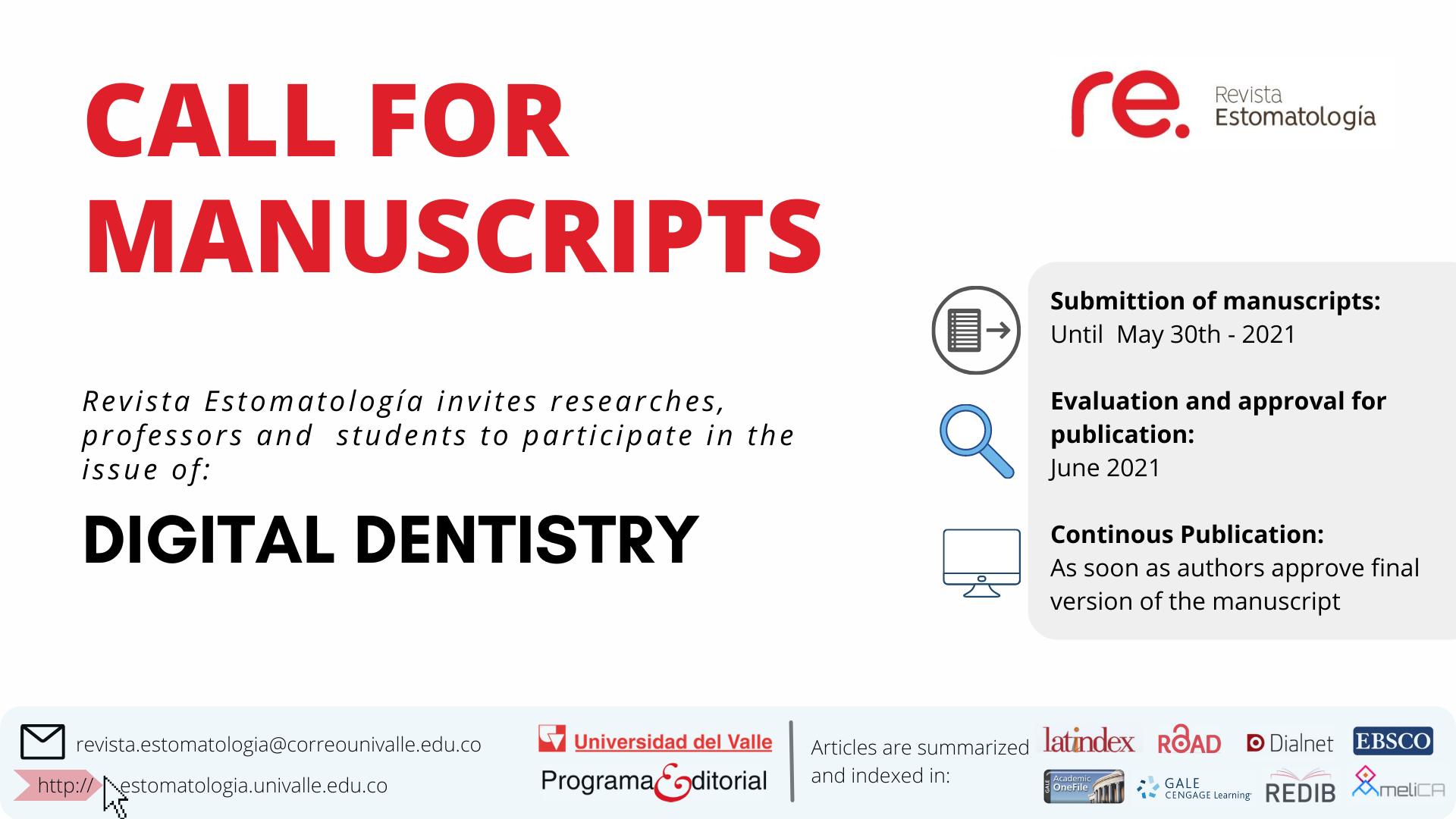 We are glad to invite researchers, professors, students and practicioneers from the field of Prosthodontics, Periodontics, Orthodontics, Implantology, Oral and Maxilofacial Surgery, Pediatric Dentistry and Maxillofacial Orthopedics, to publish your results in Revista Estomatología. Remember our new Editorial Policy of Continous Publication helps you to publish your article faster than...
Read more about CALL FOR MANUSCRIPTS
Previous
Next
Revista Estomatologia is a peer-reviewed scientific journal dedicated to the dissemination of new knowledge and information developed from scientific researches on all areas of oral and systemic medicine of the human being. It addresses itself primarily to researchers in the field of health sciences, university professors, undergraduate and postgraduate students, dental clinicians and specialized practitioners in the field of health sciences.
Revista Estomatología (e-ISSN 2248-7220), Founded in 1991 and sponsored by the Editorial Program and the Vice-Rectory of the Universidad del Valle
Mission: To spread relevant Latin American research worldwide.
Metrics
Publication
years: 1991 - 2021
Citation
years: 30 (1991 - 2021)
Papers: 326 to date
Citations: 802
Cites/year: 29.70
Cites/paper: 2.46
Cites/author: 397.15
Authors/paper: 200.73
h-index: 13
(last update January 13th, 2022)
---
The articles published in the journal Estomatología (ISNN 2248-7220) are summarized and indexed in the following indexes, repositories and catalogs: