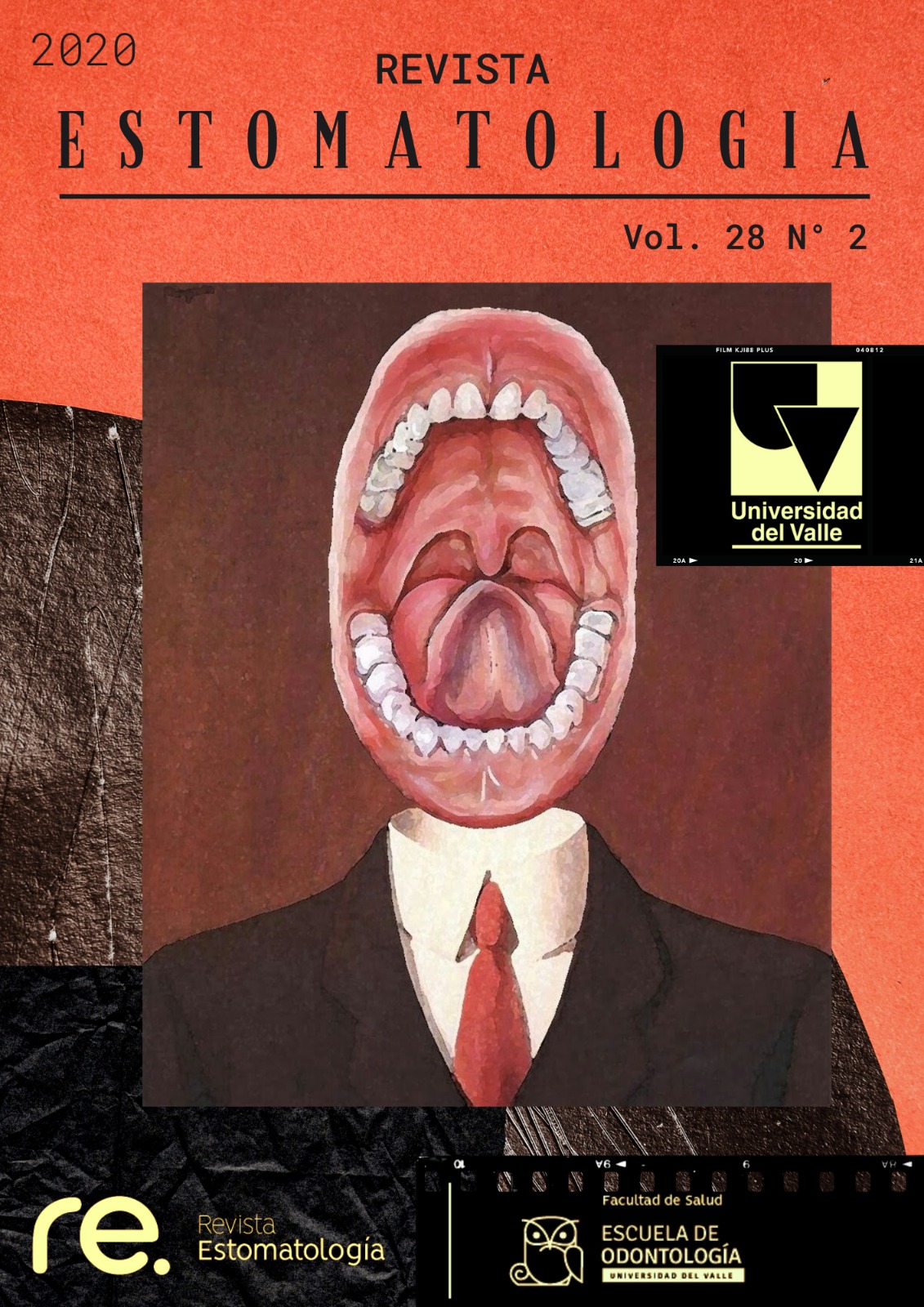 Prevalência de infecções bucais em ambiente hospitalar
Infecção Hospitalar; Saúde Bucal; Equipe Hospitalar de Odontologia, Pacientes Internados, Unidade Hospitalar de Odontologia.
Main Article Content
Objetivo: verificar a prevalência de bucais em ambiente hospitalar no período de 13 meses.  Métodos: Estudo transversal, realizado no Centro de Terapia Intensiva e na Clínica Neurológica da Santa Casa de Caridade de Diamantina, Minas Gerais. Foram transmitidos todos os dados relacionados às alterações bucais e hospitalares, ocorridas no período de março de 2017 a março de 2018, recebido pela Comissão de Controle de Infecção Hospitalar da instituição. A população estudada compreendeu todos os pacientes esses estudos, com idade acima de 16 anos, de ambos os sexos e que teve bucal após 48 horas de internação.  Resultados:Dentro do total de 2.703 pacientes a prevalência de infecção bucal foi de 1,15% dentro do período de 13 meses, sendo a candidíase maior ocorrência. A prevalência de infecção hospitalar foi de 2,85%. Conclusão: A prevalência das doenças bucais foi maior no CTI, em comparação à Clínica Neurológica, sendo a infecção mais comum a candidíase oral. Sugere-se maior atenção à saúde bucal dos pacientes hospitalizados, diante da maior vulnerabilidade dos mesmos às infecções bucais.
de Faria, L. M. M., Cordeiro, C. B., Gomes, G. de F., Baracho, V. da S., de Aguiar, E. C. F., de Oliveira, E. S., Douglas de Oliveira, D. W., Gonçalves, P. F., & Flecha, O. D. (2021). Prevalência de infecções bucais em ambiente hospitalar. Revista Estomatología, 28(2), 8–16. https://doi.org/10.25100/re.v28i2.10561 (Original work published December 29, 2020)
Garner JS, Jarvis WR, Emori TG, Horan TC, Hughes JM. CDC definitions for nosocomial infections. Am J Infect Control 1988 Jun; 16(3): 128-140.
Underhill DM, Iliev ID. The mycobiota: interactions between commensal fungi and the host immune system. Nat Rev Immunol 2014; 14: 405–416.
Colombo AL. Epidemiology and treatment of hematogenous candidiasis: a Brazilian perspective. Braz J Infect Dis 2000; 4: 113-118.
Pfaller MA. Nosocomial candidiasis: emerging species, reservoirs, and modes of transmission. Clin Infect Dis 1996; 22 (Suppl 2): 89-94.
Seneviratne CJ, Zhang CF, Samaranayake LP. Dental plaque biofilm in oral health and disease. Chin J Dent Res 2011; 14(2): 87-94.
De Marchi RJ, Hugo FN, Hilgert JB, Padilha DM. Association between oral health status and nutritional status in south Brazilian independent-living older people. Nutrition 2008; 24: 546-553.
Shimazaki Y, Soh I, Saito T, Yamashita Y, Koga T, Miyazaki H, et al. Influence of dentition status on physical disability, metal impairment, and mortality in institutionalized elderly people. J Dent Res 2001 Jan; 80(1): 340-345.
Miguez-Burbano MJ, Ashkin D, Rodriguez A, Duncan R, Flores M, Acosta B, et al. Cellular immune response to pulmonary infections in HIV-infected insividuals hospitalized with diverse grades of immunosuppression. Epidemiol Infect 2006 Apr; 134(2): 271-278.
Mealey BL. Influence of periodontal infections on systemic health. Periodontol 2000 1999; 21:197-209.
Meyer DH, Fives-Taylor PM. Oral pathogens: From dental plaque to cardiac disease. Curr Opin Microbiolol 1998; 1(1): 88-95.
Li X, Kolltveit KM, Tronstad L, Olsen, I. Systemic disease caused by oral infection. Clin Microbiol Rev 2000; 13(4): 547-558.
Haley RW. Cost-benefit analysis of infection control programs. In: Bennett JV, Brachman PS. Hospital infection. 4thed. New York: Lippicont-Raven Publishers; 1998. p. 249-267.
Melo Neto JP, Melo MS, dos Santos-Pereira SA, Martinez EF, Okajima LS, Saba- Chujfi E. Periodontal infections and community-acquired pneumonia: A case- control study. Eur J Clin Microbiol Infect Dis 2013; 32: 27-32.
Sousa LVS, Pereira AFV, Silva NBS. A atuação do cirurgião-dentista no atendimento hospitalar. Rev Ciênc Saúde 2014 Jan-jun; 16(1): 39-45.
Castellanos PL. A epidemiologia e a organização dos sistemas de saúde. In:
Rouquayrol MZ. Epidemiologia e saúde. 4ª ed. Rio de Janeiro: Medsi; 1993. p.77-84.
World Health Organization. Oral health surveys: basic methods. 3rd ed. Geneva: Orh/Epid; 1987.
Sato FRL, Hajala FAC, Filho FWVF, Moreira RWF, de Moraes M. Eight- Year Retrospective Study of Odontogenic Origin Infections in a Postgraduation Program on Oral and Maxillofacial Surgery. J Oral Maxillofac Surg 2009; 67(5): 1092–1097.
Dodson TB, Perrott DH, Kaban LB. Pediatric maxillofacial infections: A retrospective study of 113 patients. J Oral Maxillofac Surg 1989 Apr; 47(4): 327-330.
Scutari P Jr, Dodson TB. Epidemiologic review of pediatric and adult maxillofacial infections in hospitalized patients. Oral Surg Oral Med Oral Pathol Oral Radiol Endod 1996; 81: 270–274.
Seppänen L, Lauhio A, Lindqvist C, Suuronen R, Rautemaa R. Analysis of systemic and local odontogenic infection complications requiring hospital care. J infects 2008; 57(2): 116–122.
Wang J, Ahani A, Pogrel MA. A five-year retrospective study of odontogenic maxillofacial infections in a large urban public hospital. Int J Oral Maxillofac Surg 2005; 34: 646–649.
Grimoud AM, Marty N, Bocquet H, Andrieu S, Lodter JP, Chabanon G. Colonization of the oral cavity by Candida species: risk factors in long-term geriatric care. J Oral Science 2003 Mar; 45(1): 51-55.
Meurman JH, Hämäläinen P. Oral health and morbidity: implication of oral infections on the elderly. Gerodontology 2006; 23: 3-16.
Badiee P, Alborzi A, Joukar M. Molecular assay to detect nosocomial fungal infections in intensive care units. Eur J Intern Med. European Federation of Internal Medicine 2011; 22(6): 611-615.
Stramandinoli RT, Souza PHC, Westphalen FH, Bisinelli JC, Ignácio SA, Yurgel LS. Prevalence of oral candidiasis in hospitalized patients and evaluation of risk factors. Rev Sul-Bras Odontol 2010 Mar; 7(1): 66-72.
Meira HC, Oliveira BM, Pereira IF, Naves MD, Mesquita RA, Santos VR. Oral candidiasis: A retrospective study of 276 Brazilian patients. J Oral Maxillofac Pathol 2017 Sep-Dec; 21(3): 351–355.
Araújo RR, Rezende AP, Araújo MB, Capistrano HM. Oral candidiasis profile in a clinic of stomatology. Arqu Bras Odontol 2006; 2: 26–31.
Myzuka BC. Oral fungal infections. Dent Clin North Am 2005 Jan; 49(1): 49-65.
Paju S, Scannapieco FA. Oral biofilms, periodontitis, and pulmonary infections. Oral Dis 2007; 13(6): 508-512.
Pires JR, Matareli S, Ferreira RG, Toledo BEC, Zuza EP. Espécies de cândida e a condição bucal de pacientes internados em Unidade de Terapia Intensiva. Rev Assoc Paul Cir Dent 2011; 65(5): 332-337.
Arai K, Sumi Y, Uematsu H, Miura H. Association between dental health behaviours, mental/physical function and self-feeding ability among the elderly: a cross-sectional survey. Gerodontology 2003; 20: 78-83.
Ship JA, Chavez EM. Managerment of systemic diseases and chronic impairments in older adults: oral health considerations. Gen Dent 2000 Sep–Oct; 555–565.
Oliveira LCBS, Carneiro PPM, Fischer RG, Tinoco EMB. A presença de patógenos respiratórios no biofilme bucal de pacientes com pneumonia nosocomial. Rev Bras Ter Intensiva 2007; 19(4): 428-433.
Fidel Junior RAS, Lourenço RA, Fischer RG. A doença periodontal e o idoso frágil. Revista do Hospital Universitário Pedro Ernesto 2013; 12(1): 1-14.
Pappas PG, Kauffman CA, Andes D, Benjamin DK Jr, Calandra TF, Edwards JE Jr, et al. Clinical practice guidelines for the management of candidiasis: 2009 update by the Infectious Diseases Society of America. Clin Infect Dis 2009; 48: 503–535.
Vincent JL. Nosocomial infections in adult intensive-care units. Lancet 2003; 361: 2068- 2077.
Santos RP, Mariano RL, Takahashi LS, Erdmann MF. Prevalência de Infecção Hospitalar em Unidade de Terapia Intensiva-Um estudo retrospectivo. Rev Enferm UFSM 2014 Abr-Jun; 4(2): 410-418.
Nogueira PSF, Moura ERF, Costa MMF, Monteiro WMS, Brondi L. Perfil da Infecção Hospitalar em um Hospital Universitário. Rev enferm UERJ 2009 Jan-Mar; 17(1): 96-101.